Mentalacrobatics pointed the way towards a very funny article in the The Standard.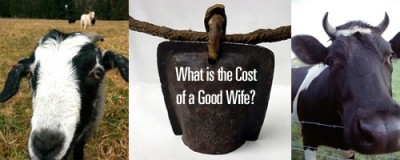 I have two sisters, the white kind, which for some reason seem to garner some attention in our lovely continent of Africa. While growing up in Sudan and Kenya, I was offered all types of farmyard animals if I would just petition my father for the unfortunate soul who only wished a beautiful mzungu as a wife. At least a couple dozen cows were an acceptable offer in my book, though I took offense at one young lout who only promised a few goats and a couple scrawny chickens.
On a more serious note. I know my African friends can set me straight if I'm wrong, but I've heard that it's not unusual today for a dowry to be a car, house, or even money paid to the parents for the rest of the parent's lives! I sometimes wonder how prevalent dowry's are within the city as compared to rural Africa. My guess would be that they are less likely to happen, or if they are, to be less of an issue and more a token to the cultural past.
From this white African's perspective, I can tell you that I think the practice is a little dated. Just as centuries-old practices in Western culture have gone by the wayside (when was the last time you saw the wedding sheet hung out over the balcony?), I believe this will too in Africa. As the world economy becomes more global, the investment of livestock into a woman (as a commodity) just doesn't make sense. Not to mention the social ramifications of women's rights and everyone's understanding of their place in society.
It's just a practice that is bound to die out eventually in everything but token practice and lipservice. Lastly, I'm not sure Chelsea Clinton is worth 20 cows!