Is this a regression in technology or a progression in regressive technology? Actually, PocketMod is really a neat tool. You can create a personal day-timer, planner, shopping list, etc… All you need is a computer, one sheet of paper and a printer to make this work for you.
Some benefits:
It fits easily in your back pocket or purse.
It's as cheap as one piece of paper (Because that's all it is!)
It opens like a book. Leading to easier to find, more organized notes.
The first page has a pouch, big enough to carry a business card!
Customizable with "Mods" tailored to your needs.
It's free and fun!
An added benefit is that with the new desktop-based application, you don't even need to get on the web to make your planner.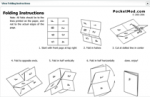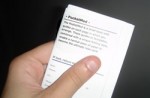 (Thanks to KikuyuMoja for the tip)