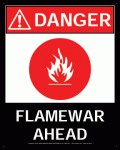 Yes, I have my first flame war. You see, I had no idea that there was such a place as Somaliland (which is in dispute between a couple of readers at the moment), which was carved out of Somalia. Currently, Yasmiin is telling me that there is no such thing as Somaliland, and his friend Faisal is questioning Yasmiin's mother's heritage. I quote:
We in Somaliland are on the up while you guys down south are still killing one another like savages who have escaped from a zoo.
I'm all about healthy debate, and though I find flame wars very funny, I must ask that my two Somali readers try and reign themselves in a little bit while debating this topic. I also understand how any political discussion can become hot very quickly, whether it be about US policies or Somaliland independence.
I must put some ground-rules into play for future flame wars:
No crude obscenities – I prefer my obscenities witty and humorous
When referring to your enemy-of-the moment, please refer to them as "the honorable ____"
Try to remember that though there are others who read my blog daily, but I HAVE to read it – so keep it informative and interesting for me
Now, back to Somaliland.