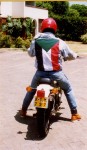 You know us wazungu, we love our piki pikis. I grew up on them, literally. My dad used to drive us to Juba Model School when we lived in Southern Sudan every day. I was always jealous of my sister since she got to ride on the tank while I was positioned behind my dad with no view. At 14 baba yangu taught me how to ride properly, I guess he wasn't too enthused about his son riding uncontrollably around Khartoum and Nairobi like a Kalenjin with a lion on his heels.
[You might be wondering why I'm wearing a jean jacket with a Sudanese flag on the back in the picture above. It was tradition for us to place a flag on the back – usually from the country you lived in, or were closely associated with.]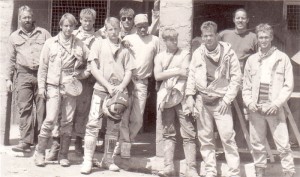 That's your author, Hash, third from the right.
My last year in secondary school, 8 of us took a piki piki trip up into the NFD (Northern Frontier District). We rode all the way up to Mt. Kulal by lake Turkana – what an incredible place! A green mountain rising out of the desert. I had many tire punctures along the way, we chased zebra and other animals and only one of us managed to mangle his bike in a warthog hole. No serious injuries were had, though each of us had our number of spills.
There was a lifetime missionary who drove the backup Landcruiser who was the best jua kali I've ever seen (and I've seen some of the best) – he could fix anything. He also drove better on those roads than any Safari Rally driver could have. Places that were difficult to traverse with a piki were easily overcome with this monstrous truck. That was an amazing man, no doubt about it.
Once motorcycles are in the blood, they're hard to get out. Most recently, I've enjoyed the bike pictured below. Unfortunately, a crazy American turned across the road in front of me and it was totalled. The front forks were sheared, but I was fortunate enough to come out of it unscathed.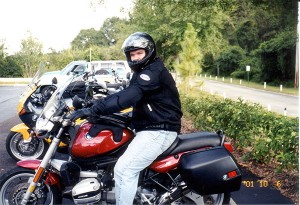 I'm now firmly in the BMW camp. The engineering is top notch, they actually build them so that if you have a frontal accident you are vaulted up so that you don't hit the obstacle as hard or, if you're lucky like me, at all.
What got me thinking about this: African Offroad Tours, a company that leads piki piki excursions for tourists like I had in my youth.