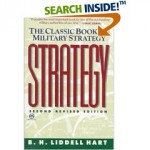 I've recently been caught up in BH Liddel Hart's classic book on military strateg, Strategy, that he wrote back in 1954. It's kind of odd to find myself writing a mid-book review, but I feel compelled to do it non-the-less. I've written on strategy vs tactical in the past, and find the concept and implementation of a well thought out and planned strategy extremely interesting.

"This high proportion of history's decisive campaigns, the significance of which is enhanced by the comparative rarity of the direct approach, enforces the conclusion that the indirect is by far the most hopeful and economic form of strategy."
As far as I can tell so far, the above quote is the premise and foundation of the book – indirect vs direct. Since I've not been an avid reader of military history in the past, the somewhat generalized overview of histories earliest recorded wars amongst the Greeks and Romans is about the right level for me, though it might be too much of a gloss-over for real military experts.
What I really find fascinating though, beyond the military implications, is that the theories and ideas he expounds upon are not only for the battlefield. Those of us in civilian life would do well to heed his advice. Don't we all have adversaries, or at least challenges that force us to confrontation? Though we don't enter into physical combat with them normally, we can still utilize the indirect approach to out manoeuvre them and gain the advantage we need to succeed.