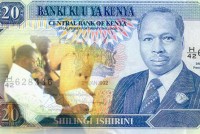 A few days ago I started an "Africa" tag at 1000tags. Since that time a small discussion has been brewing over at Black Looks about monetizing your blog. It's an interesting an sensitive subject within the blogosphere that I have seen addressed a couple times within the African blogging community in particular.
I'm guessing here, but I'd say that 90% of bloggers come from developed nations where the writers make a living elsewhere and don't need to supplement their income through their blog (notice I said need, not want). These bloggers blog because they feel their need to share their thoughts and insights with whoever might stumble across and read their blog. This is the general background to the idealistic viewpoint of a "pure" advertisement-free blog – White African falls into this camp. Read Seth Godin's piece to get a better understanding of the history of this mindset.
Oluniyi brought up a good point though, especially for "the other 10%":
You can't avoid monetizing your blog, if you don't have any other means of survival. Here in Africa, poverty is still very much rampant and folks would hold on to anything, just to survive. I'm for monetizing blogs. At least, the additional income would help offsetting some of the bills one incurs for being online.
So, is there an argument for trying to monetize your blog when it truly supports the writer being able to blog at all? I think so. If you make 1000/= Kenya shillings a week and it costs you 100/= shillings to get online and blog at an internet cafe/shop, then any small amount of advertising revenue that you can bring in makes sense.
It's an interesting debate, one that I'd love to hear others chime in on. Thoughts?