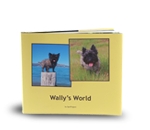 Do you write good articles, good stories, are you just egotistical and want to get a printed version of your blog to archive? I just might be enough of #3 to pay someone $30 to print and bind a book out of my blog. This is the theory behind Blurb, a new company that will allow you to print just about anything, including your blog, in a very nice package.
I first started thinking about this the other day when I came across a fellow Rift Valley Academy alumni's blog where she is writing a childrens story. My friend Cathy's, the Catbird Seat, has a great write-up on it, so I'll let her expound on the artistic/literary side of it.
What is compelling about this, is that the barriers to entry in the publishing industry are not being hurdled, overcome or beaten down… they're just simply being bypassed and ignored. When someone like Budding, from Australia, is able to write a top notch story and allow readers to get the content and possibly purchase a book of it without ever having touched one entity in the traditional publishing industry, you can bet that they're a little worried.
If you're a Mac user, you can print an book of sorts (if you're creative) with iPhoto. Blurb takes it to the next level, truly democracizing the industry.