Leo was kind enough to send me an invite to the invitation-only Newsvine beta. Over the last week I've been digging around in this new web-based news application trying to decide if it's good, worthwhile, valuable, etc… So far, I'm truly impressed.
A basic overview:
The site is split into two, Associated Press articles and what they call The Vine. AP articles are automatically inserted into the website, while The Vine is a combination of user's articles and seeded links. User's articles are written directly on the site about a recent event, a hot topic, or just an opinion. Seeded links are in a way similar to Digg, because users scour the internet for interesting stories and then submit them to Newsvine. (read more)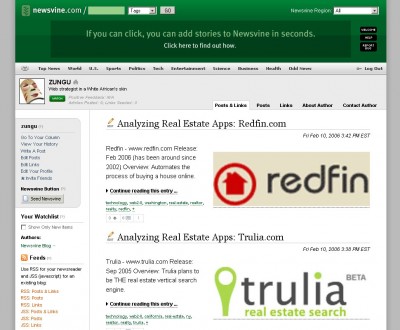 In my right navigation bar, right under my RSS feed for White African, you can see my feeds from my Newsvine column. If you're interested in Newsvine and want to give it a try, shoot me an email. I've only got a couple invites though, so please be serious about making it a better application if you want one. [hash] [at] [whiteafrican.com]
More insights on Newsvine from a traditional journalist.