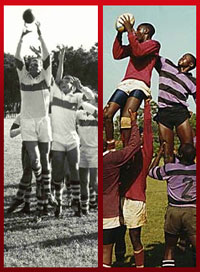 I'm going to do it. I'm going to open the floodgates of wrath and hot blood that this topic of schools rugby in Kenya generates. You know who you are, and I'm telling you to put your best foot forward now and tell me why your school is the "best" rugby school in the country.
There are a couple schools that have to be mentioned right off the bat. St. Marys, Lenana (Duke of York), Rift Valley Academy, and Nairobi School (Prince of Wales) are the big name schools that have a long history of the sport in Kenya. However, there have been some strong "newcomers" over the years that deserve mention, namely some janjaweeed-type maniacs from Njoro High school in the early 90's (yani, those guys had NO fear, as Saints and Lenana found out at Blackrock 1992). How about Hillcrest or Mangu?
Now, because I'm a Rift guy, I nominate Rift Valley Academy, my alma mater. RVA had a record 10 straight Prescott Cup championships from 1980 and 1990. In the following 4 years we finished as champion one more time and lost in the championship game on the other 3 – so we were in the running. I don't even know what happened prior to 1980, so someone help me out here. Even just listing the 80's and 90's, that's remarkable. You know if you played rugby in Kenya during that time that you feared the Buffalo.
RVA rugby started in 1963. Our first match was at Kijabe Primary School's pitch against St. Mary's. We won 24-13. So, though RVA was not the first school to have Rugby in Kenya, it has a great history and pedigree within the very top ranks of Kenyan schools.
Quite obviously, I'm prejudiced. But, because I'm fair I will give you a chance to voice your reasons for inclusion. So, name your school, it's pedigree, and the reasons it should be listed in the Kenya Schools Rugby "hall of fame".