(TMI = Too Much Information) I usually don't share that much personal information on this blog, I figure people just aren't that interested, and it's more for my thoughts and musings than as an autobiography. But, you know a proud father just can't keep things in, and today I plan on doing just that. As MentalAcrobatics stated in my last article, I have a habit of dropping little pieces of personal info, today I wish to brag openly about my baby daughter.
Coriena was born yesterday evening (2/28/06), weighing in at 9.4 lbs. Some of you think that is big, those of you who know me personally realize that that's just about par for the course. I have 2 other daughters who were both 8 lbs and 9.3 lbs. Another common feature of our children is their deep understanding of "African time" even before they are born – all have been late. Coriena showed herself to be the most stubborn though by showing up 8 days late.
So, without further ado, here are some pictures of Coriena and the other girls: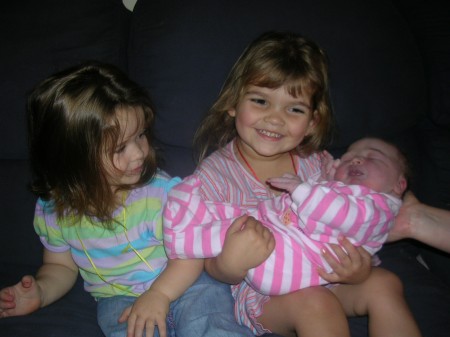 Coriena meets her sisters
Now, your white african friend must be off to do responsible things like change diapers, cook food, run to the duka, etc…. Thank you for your well wishes and prayers, they are very much appreciated!