Ever heard the saying, "Trying to fit 10 lbs of crap in a 5 lbs bag?"
That's ETech today. For some reason the hotel was double booked with another conference and we got booted to the 3rd floor. Unfortunately for everyone here, it's the same number of people but with 1/2 the space. Each session seems to be standing-room only.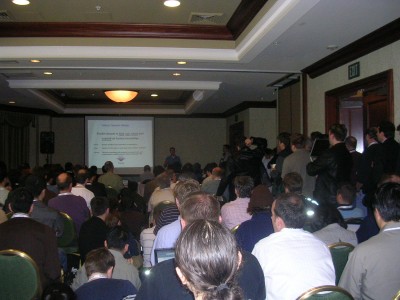 Still, there have been some very good sessions, including Carsten Bormann (German) and Steve Yen (TrimPath/NumSum) talking about disconnected-from-the-Web applications (more on this later). Bradley Horowitz from Yahoo! had a really interesting talk about where Yahoo! is headed with social search and mashup applications. Chris Messina just showed some of the new stuff you're able to do in Flock, which I've been testing for while, and it keeps looking better and better.