Here's something a little different. I recently talked about how the web can change Africa, and how those of us who I termed the African Digerati, the people with an understanding of Africa and knowledge of technology, are the catalysts of that change. I challenged people to come up with ideas and to implement them if they can.
Since I try to practice what I preach, here is something I've thought of. Below you will find a web technology idea that could change the way Africans communicate, trade and interact with each other and the world.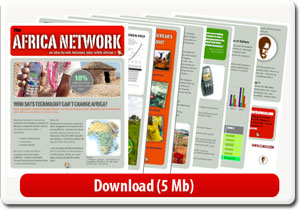 The Africa Network idea is just that, an idea. As I state on the last page, it is not thoroughly analyzed or researched, so the detail is lacking. However, it does provide a platform to open discussion on the topic. Post your thoughts in the comment area below, or email me at: hash [at] whiteafrican.com if you would like to discuss something privately.
NOTE: This was also my chance to test out Apple's iWork software, thus the formatting and size (my apologies).
NOTE: Vote for the Web Technology Idea for Africa manifesto on ChangeThis by clicking the link below: