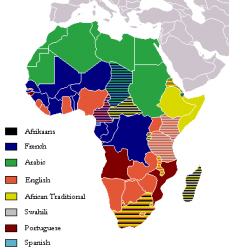 Is it really technology vs tribal languages, or is it technology supporting tribal languages? There have been some really good comments and emails to me about my technology idea for Africa that concern language. I grew up within a family of linguists, language translators, so this is one of the areas that I find the most challenging, promising and interesting.
One commentor noted that though people are all from one country, they still would rather listen to the radio or read in their "emotional" language – usually their tribal language or diatect. So, the question becomes: how can we leverage technology to both unite people together as a large community while still allowing them to fragment into familiar groups?
Danah Boyd at ETech spoke to this in her G/Localization session. Her point was that though the web allows you to get global, most people still use it to connect with people that they are familiar grouping with. So, a perfect example is my blog. I am global with it, but I choose to be a part of the Kenyan community online, because that's what I'm comfortable with.
If that's the case both offline and online, then the technology used should allow for local variations of language. In fact, it should expressly support and encourage the use of local dialects to be used at the local and district-levels of the application. this should directly affect all three areas of my Africa Network idea: news, community and search (though search would be the hardest to implement).
However, when a news item or community gets larger than local or district size, it should take on the larger language group that it is a part of. For example, a hot news item in a tribal dialect would be elevated to district-level, but in order for it to show up on the regional or country-level news, it should be in the national language (usually English, French, or Arabic in Africa).