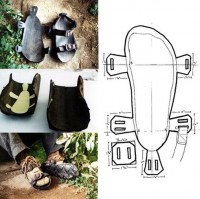 I'm a big guy who grew up running around the bush barefoot in Sudan and Kenya, so it was always hard to find akalas (sandals made from tires) that fit my big wide feet. Maybe that's why I find this article on Make's blog so interesting. It details how to make sandals from old tires. The original story came from this website though.
One of my roommates from RVA had an idea to bring Akalas to the US. Have nice designs created, then have them made in Kenya and shipped to the US for sales. They would be a eco-friendly alternative to normal sandals, therefore providing a "story" for marketing and sales. People would buy them to: 1) save the environment, 2) have good looking sandals, and 3) support African manufacturing. Really, a very good idea.

So good of an idea in fact, that less than a year later a non-profit called Ecosandals launches. It wasn't his company, but it was the same idea. They do all that is mentioned above, and do it well.
Business lessons learned:
Make sure you have a story to tell with your product/service. People buy stories.
If you have a good business idea that you want to (and can) execute, make sure you're ready to act on it before you tell people what it is
technorati tags: akalas, africa, tire sandals