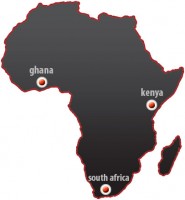 There are three main areas of web technology innovation in Africa, three regions that define it. They are split geographically, have different focuses and are the recognized technology leaders in their region. All three contain a strong sense of identity and a continued drive to change the continent.
These three countries are Ghana, Kenya and South Africa. They represent the power nexus of Africas technological future. (note: other countries also show technological innovation, these ones just keep popping up more than the others)
Let's take a look at them in closer detail. A few examples of what I see, which I'm sure many readers can augment with products, projects and businesses that I haven't heard of.
Kenya
Ghana
South Africa
Obviously, there are many more in each of these countries, and many other countries that also have a great deal of innovation (So, all you Nigerians don't get too upset, I know you're doing some big things there too).
It will be interesting to see the development of technology in each of these regions. South Africa has stronger ties to the West and a better infrastructure for development. Kenya has a great deal of innovative ideas coming out of it, and also seems to be the testing ground for many different projects. Ghana continually proves that despite a lack of infrastructure, that Africans can design and innovate around it through harnessing technology.
[Note: I'm already being set right by my Nigerian friends. 🙂 Please keep sending emailing, or commenting on what's happening in your country and I'll add you to the list. I'll append the map later.]
Nigeria
technorati tags: african digerati, kenya, african, technology, ghana, south africa,