I thought I might have a little fun with Google's new Google Trends tool. Basically, it allows you to search for any term, or combination of terms and see what the search and news volume is on it. It could actually be a pretty interesting marketing tool if it gave out some more information.
My test was using the terms, "Kenya, Sudan, Tanzania, Somalia, Uganda".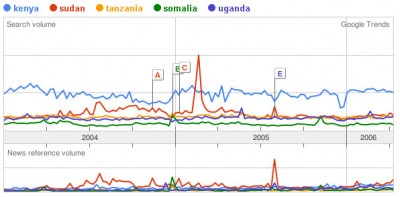 As you can see from the results, Kenya is much more consistently on people's minds than any other country. Also note, there was a big spike in interest on Sudan in early 2005 (Darfur?).
However, notice that the lower graph shows that Sudan is the country in the news more than any other.