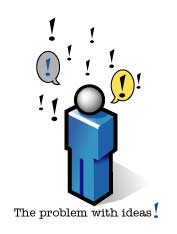 Do you have a ton of "good" ideas? Are you entrepreneurial by nature? Does your mind work overtime coming up with solutions to everyday problems? Sure, some of your ideas are good, some great, and some are rotten. Either way, you're an idea-person, you can't help that. The ideas just come.
Idea-people have a couple of problems:
You tend to spread yourself to thin on to many projects
You often get scatter-brained and lack focus
The intoxication of new big ideas, and solving problems in your mind, keeps you from executing on them
The problem with ideas, or at least for those who have many ideas, is that they spread you to thin. Do you ever find yourself trying to juggle to many projects, business initiatives or leads? I do.
I'll be the first to admit that I consistently have to remind myself to focus. Focus on one idea and see it through to completion. To dedicate myself to the execution of that one idea, and not run off on the trail of some other idea that I know has so much potential.
It's the curse of the problem solver and big thinker. The difficulty to concentrate on tactical execution of a plan, not just move onto the next stage or problem-solve the next phase. Worse yet, you might grow your idea beyond what you reasonably have the ability to accomplish – losing credibility and momentum in the offing.
So, what is one to do? After all, if you're like me you can't stop the ideas from flowing, they just happen.
What I made a conscious effort to do was pick 2 big projects that I thought "had legs". Those would be what I would work on continuously until completed. If I found myself with some extra time I would work on a minor project – one that could reasonably be accomplished within a week or two.
What I have found is that this has allowed me to continue to think of new ideas and "grand strategems", while still giving me the chance to focus and get things done. I duly write down and back-burner new ideas for possible later action, but I don't spend a great deal of time fleshing them out. Nothing more than a few pages of what the idea is about, and maybe some diagrams.
I'm not sure if that is much help to anyone else out there who struggles with this, but it's working for me. Though I do admit to following the odd rabbit-trail far to often…. 🙂
I'm not sure there are any "great" ideas, great ideas are just good ideas executed well.
(Note: Thoughts on this issue were brought up by a good blog article by Dharmesh Shah)