Wow, I'm extremely impressed! Thakadu, a frequent visitor here and friend, has come out with a nice Google Maps and Yahoo News mashup that he's simply calling News Map. Basically, he's broken down the the finding of current news stories by country into the easiest common denominator – geography.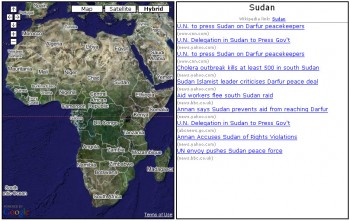 It's actually much more than African news being mapped, it's international. However, since it was created by someone within the African digerati circle, I took creative license in the title to this post.
Thakadu is also the creator of Muti, an African news aggregator. It takes submissions from registered users (much like Reddit and Digg), and stories go up or down depending upon how much they are read and voted on.