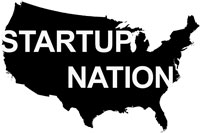 I was reading Paul Graham's latest essay on what makes America a great place for startups. It's definitely worth a read, even if you don't agree with all of the points. My suggestion is to read it, then read some of the comments on a reddit post about it.
Anyway, after reading the essay, I started to think of other cities and nations that could do the same as Silicon Valley. I'm sure that there are some places in Europe that could fit the bill. What about Australia or New Zealand? India would make sense in time.
Is there anywhere in Africa that would foster a startup culture?
Cape Town comes to mind as a possibility, I don't live there and have never been, so it's hard to say. I'm sure many of the attendees of the upcoming BarCamp Cape Town (June 16-17) could tell us if it's a viable option. Are there any other cities worth mentioning, or is the infrastructure to low and the government regulations to high?
Where in Africa would smart people like to congregate, study, work and live? What countries would be open enough to ideas about less beauracracy and more immigration? How about open financial markets and low tax rates?
Thoughts?