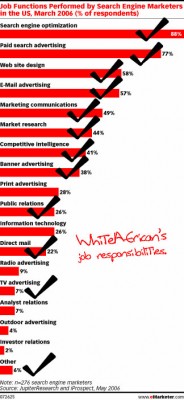 eMarketer had an interesting graph to show about those in the search engine marketing field. It shows what is expected of them by their organizations.
Many business leaders misunderstand the true value that a search engine marketing person brings to the table, which mainly consists of search engine optimization (organic listings in the search engines) and paid search listings (the little ads you see on the right side of a Google/Yahoo/MSN search).
So, when a search engine marketing person gets hired, they usually end up doing what the chart to the says – basically everything.
Search engine marketers are either overworked or under-appreciated. Whichever it may be, iProspect hypothesizes that the additional workload shows that companies are not yet serious about investing human resources in the management of search engine marketing.
I decided to take a look at what I did and mark that down. The interesting thing is the graph doesn't show that there is there is a whole level that's missing – strategy. None of these tactical job requirements mean much if you don't have an overarching strategy to make them work.
Anyway, I just thought this would be a fun exercise for me personally.