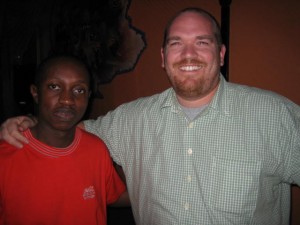 I was able to meet up with a couple more tech guys in Nairobi on Thursday. Nicholas Ochiel, the creator of Cheeseforge, helped put the meeting together (in picture with me). I was really impressed with his programming knowledge, as well as his overall understanding of the mobile market in Kenya. He's done a lot of development work based around SMS and mobile devices, which is intriguing to me, especially since I'm busy with getting stuff off the ground with Zangu.
I was also able to meet Josiah and Louis, two professional developers who work for companies in Nairobi. Again, their knowledge of the industry in Kenya is amazing. I keep thinking that they need to get together with some of the other university students or Ayo Africa guys and leverage their combined knowledge.
As usual in my discussions, we talked about the various opportunities for web development in Kenya. We talked at length about the need for a mobile/web payment system that could be used by non-techies and those with little internet access. Basically a mobile/web bank that supplies micro-credit to applicants. An extremely interesting idea with profitable business model – I hope somebody does it.
Louis and Nicholas have a long-time sparring match over what is more important for the success of a product: Marketing or Quality. This was another hotly debated topic that I plan on covering in another post. Great thoughts by both of them. Thanks for the time guys, it was well worth every minute of it.