We see it happening all the time in the US and Europe. Companies starting a blog to increase their touchpoints and transparency with their customers. Riyaz just let me know that Capital FM has started their own called, Breakfast at Capital Hill. They're more fortunate than most companies, in that they have a megaphone (radio station) to let everyone know what they're doing.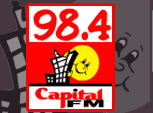 I'll be interested to see where they go with the blog. If they will use it for edgy content, use it for viral marketing purposes, or just connect better with their listeners. Any of the above reasons could be useful to them.
Since they've just started, I'll put my 2 cents into what I think of the blog so far. First, I understand they might be using Blogger just because they don't want to deal with hosting issues. However, blogger does allow you to alter the templates, so let's see some branding and a cool design. Second, make it possible for people to leave anonymous comments. Not everyone has a blogger account, and it's a barrier for listeners to leave comments. Third, it's been a few days since I looked at the site, and it appears they haven't updated it. If they hope to be successful, they need to be consistent.