There's a window of opportunity in Africa right now. Many of the "big" web companies don't realize the potential that Africa represents in the web and mobile space, so they ignore it. Those who act now have a chance to own that market and take advantage of Africa being an afterthought.
For example, I spoke with a director of PayPal at eBay's annual conference a couple weeks back. I mentioned that I would be out in Kenya soon, and wondered what his thoughts were on where PayPal was going on that continent. He stated that they weren't looking to do any development in Africa at the moment. What a wide open door for someone in Africa…
The lion's share of web development happens in America. Most American developers however feel like they have a big enough market within their own country. Those that don't only venture into Europe or China, and that's the end of their "internationalization". What they fail to realize is that there is a huge market in other places like Africa. Sure, it takes a little getting used to the localization and user differences, but it's there.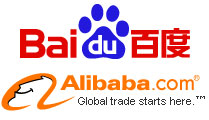 An example of this can be seen in China. Alibaba, the Chinese auction site had the jump on eBay, now eBay is having great difficulties in gaining a meaningful marketshare and their margins are drastically lower than in other markets. Baidu, the Chinese search engine, won mindshare from the Chinese before Google was able to enter their market, now Google plays second fiddle in one of the world's largest markets.
We have all seen how the phone has changed communications in Africa drastically. The Web is set to do the same, especially when married up with the mobile phone. Those who labor now to create products that start winning mindshare on the African continent will reap the rewards in the coming years.
Investors and web developers would be wise to pay close attention. Invest now and see just how much money there actually is in Africa. At this point there are two opportunities: 1) own the market (like Alibaba and Baidu), or 2) create the user-base and be bought out by the "big" guys when they wake up.