It's been rather interesting to note that the article I wrote about Kenyan schools rugby has had the most comments out of any post that I've ever written (over 50 to date).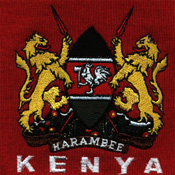 Kenyans are nothing if not passionate. This especially comes out when you get guys talking about their glory days in secondary school. What's been great to see is the fun ribbing and outrageous claims, while everyone still is respectful of eachother. It makes me think of all the guys meeting up at Carnivore or something after Blackrock. Everyone was enemies on the field, but had a good time together afterwards.
The Kenyan rugby scene is a particularly good one to discuss because there has been so much change over time. The Nairobi powerhouses of the past decades have given way to some upcountry teams, only to come roaring back again from time-to-time.
Here's hoping that the spread of Rugby all over the country will result in an even better showing on the international stage at some point. (I mean in full 15 a-side rugby, Kenya has proven itself as a GREAT 7's side time and again)
[Note: for comments on why your school is/was best in rugby please go here]