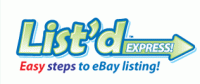 So, I'm happy to let everyone know about a new eBay seller's tool that has been launched called List'd (www.listd.com)! List'd is an easy and fast way to put your items on eBay, best of all it's free. That means free image hosting, free scheduled-listings and free templates.
The idea for List'd came about because I realized that there were a number of tools available for "powersellers", but there weren't many options available for people who want to list an item on eBay randomly, or just a few times per month. The few tools that were out there were clunky, had a cost associated with them, or weren't as user-friendly as I thought the tool should be.
Our team set out to create the easiest and most user-friendly eBay sellers tool on the market. A one-page listing tool that would help you get an item up in just minutes. No more going through the 5 pages on eBay to list something – a tool that anyone could use.
Some of the neat things that we've done to make List'd an easy tool to use:
Keywords to find your category – Many people don't know what category they should list their item in. List'd lets you type in up to 6 keywords and then returns the most probable categories for you.
Beautiful templates – We're starting off with three great templates. We realized that there was a lack of great looking templates, so the team has put together a couple that will knock your socks off. Look for even more in the coming weeks.
Free scheduled listings – Choose to end your auction in 7 days, or have it end on the next Sunday evening at 8:00 PM (generally the best time to end an auction on eBay).
List similar items – Once you have finished listing your item, you can easily relist another one with all the fields pre-polulated for you.
Some template examples: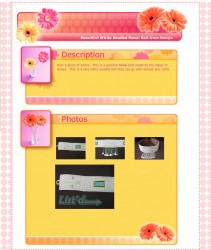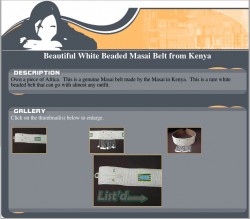 A screenshot of the listing page with a sample listing: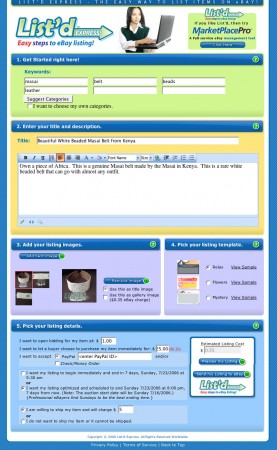 So, everyone do me a favor and try it out (You need an eBay sellers account to do so). Whether you like it or not, I would love to get your feedback. What can be made better? What do you love about it?
The product blog is www.getlistd.com, which I also write for. You can email me directly at erik@getlistd.com or leave a comment here or the Get List'd blog. We are still very much in our early stages of development, and your feedback is critical for us to fine tune the product.
[cross-posted at Get List'd]