I love great products, especially when they are simple. Or, in this case, simply the best at what they do.
Being in web marketing and web application development, I'm constantly looking for domains for advertising campaigns, clients or applications. I used to go to GoDaddy to look for them, one page at a time, it was a horribly time intensive process for someone who operates in a very fast paced world.
Then, I found InstantDomainSearch.com. It is now the ONLY place I go to look for new domains. It gives you the .com, .org, and .net suffixes back for every search as you type it in. It's very fast.
Conveniently located under whether or not that listing is available are the listings for the top registrars to use. Since I still do use GoDaddy to register my domains, I simply click on that button, login and buy.
There's even a little widget, seen below, that you can add to any webpage: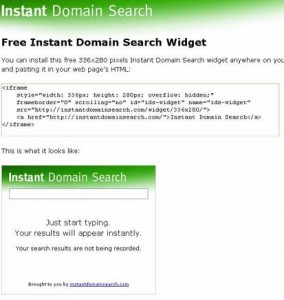 It's fast, it's simple, it wins. Try it.