Huckabuck is a meta search engine, meaning they scrape the Google, Yahoo, MSN, Digg, Del.icio.us and Technorati for search results, and then return the data to you in a really neat way. Well, they've decided to sell their web application on eBay. I've really, really liked their interface and the thought they put into the search tuner, which is a sliding "scale of importance" that makes their appliction stand out from other meta search engines.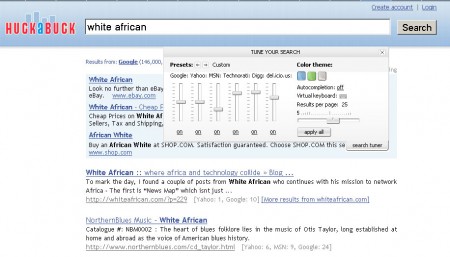 A screenshot of Huckabuck with the "search tuner" open.
Now, if only they had used my application List'd Express to create their eBay listing. Our templates would have spiced the layout up nicely. We might even have created a special template just for them.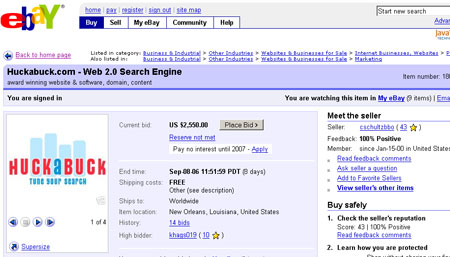 Huckabuck for sale on eBay
Check out the Huckabuck blog too, a great example of viral marketing and customer interaction.
If you want to get your hands on a well designed meta search engine, this is a great opportunity. Sale of it means that they weren't able to figure out a solid business model for it, but that doesn't mean that something can't be done with it that will create some cash flow. Depending on how much it goes for, anyone want to buy this with me?