I'm kind of a t-shirt nut. I like fun, different, or just really well designed t-shirts. That doesn't always translate into me buying them, but I do enjoy looking for them. Anyway, I came across Oddica a couple months back, which is one of those boutique t-shirt shops you see popping up around the web. They sell really unique t-shirts for a premium.
For some reason I really got hooked on their Snailbot design, and signed up to be notified when it was back in stock. They obliged, and I was informed a month later that it could be ordered again. Off I went to buy it.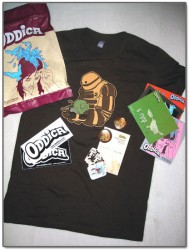 A week later my package arrives. It's in a cool looking Oddica branded envelope (+1 point for cool packaging). I open it up and out falls a load of other Oddica paraphernalia including 2 buttons, 2 stickers, 4 postcards, 2 library-like cards and 3 little plastic I-don't-know-what-they-are cards. Wow!
So, that's a lot of extra stuff. I was expecting a t-shirt, instead I got a t-shirt and a bunch of other cool stuff. Now, I might not use some of it. Sure, my girls will have fun with the postcards and buttons, I might put a sticker somewhere – who knows…
What's important here is that they OVER DELIVERED in an era of under delivery (+1 point for exceeding expectations).
Second, they empowered me to tell others about Oddica by giving me tools that made that job easier. First off, I'll tell everyone how much stuff I got (like now), then I'll give away some of the stuff. Guess what, they've just scored another point on viral marketing (+1 point for viral). Think about it, you're going to trust my review of a product a whole lot more than you will the company itself (aka: marketing).
I'm learning some lessons here for myself. Thanks Oddica, you're showing what an ecommerce store can do.