If you have a blog, you have a blog feed (also known as RSS or OPML). A lot of people have started using a blog reader to get automatic updates from their favorite bloggers all in one place. I use a web-based blog reader called Newshutch, but you could also use Bloglines. If you're interested in one tied to your computer, you might look at the Sage extension for Firefox.

Feed Digest is a tool that allows you to enter the feed of any website, choose how it will displays, and then will give you the correct code for you to embed in your own website. Basically, it's service that allows the non-tech oriented people to play with web feeds like a programmer. It's very useful.
Here is just one example of how it can be used. On my consulting website I quickly added it to the right-hand margin. If I ever wanted to change the number of blog postings that were readable at one time – say from 3 to 5, I can change that in my Feed Digest account, and it would automatically change it on the other website. See the image below: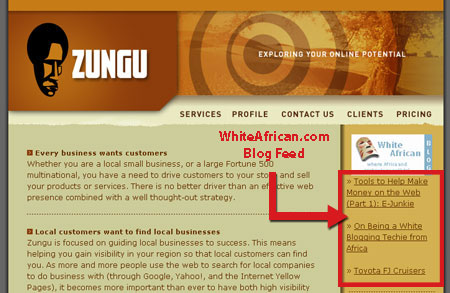 If you decide you want to start adding other people's blog feeds to your blog, or even feeds from online news sites or something like Flickr, you can easily do that with Feed Digest. It's free for up to 5 feeds, from there you would have to create an upgraded account starting at $11.99.