I decided to give PollDaddy a spin today. It's a free web-based tool that allows you to build a poll and gives you the code to place it on your website. This article is a test of that service and a review of the tool as I go through it.
Since I'm doing some stuff around the mobile phone industry, I wanted to ask everyone about how they use their phones. Vote below on what you use your phone for:
I've got to say that I'm really impressed with PollDaddy. It's simple to set up a free account and equally simple to set up your polls. The part of the page that you build the answers in is very customizable and intuitive. All you do is double click on any line to start editing it (see image below).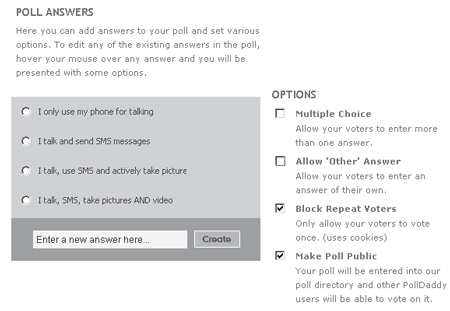 At this point you have the chance to use a custom look for your poll. I had not set this up in advance, so instead I picked one of the pre-made PollDaddy skins. You then copy and paste the code that they generate into your blog. Very simple.