[Disclosure: I know the guys behind PayPerPost since it was a spinoff company from the agency I used to work at. This has put me in a unique position to see the inner workings of the company. I also am a blogger and advertiser, which allows me to speak from an actual "users" standpoint on this product – unlike many naysayers who only blog]

One of the common themes you run across within the blogosphere is the tradeoff of time spent blogging and the payoff for your time. If you're a great blogger that writes things that people like reading, then you're off to the races with companies knocking at your door for advertising space, sometimes willing to pay up to $10,000+ per month for that 125×125 ad. If you're a good blogger with a lot of pageviews, you might go the route of Google AdSense and get some money that way.
For those in the second category, and the "ordinary" blogger, there's not much else. This summer Ted launched PayPerPost, a platform that allows advertisers to put forward opportunities for bloggers to write about. An advertiser might pay $7 for you to write a 200 word post about their product. Usually they just want a straight and honest review. As the blogger, you can do a couple of these each week and easily make up to $100/week. Not bad for us ordinary blokes!
Now, PayPerPost has a ton of controversy surrounding it. Why? Mainly because the alpha bloggers around the web believe that it pollutes the blogosphere – taints its purity if you will. There's all types of finger pointing about how this is a conflict of interest, and that you don't come to blogs to read advertising. I guess it's just interesting reading that type of comment from bloggers that take advertising and write about those same products.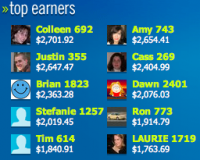 You make the call on whether you think it is right for your blog. I know that if I was looking to make some money off of my blog, that I wouldn't hesitate to pick up on one of the many opportunties within PayPerPost. If I was living in Africa, was a stay-at-home-mom, or just wanted to make a couple hundred bucks each month, I would definitely do this. I can see the top earner so far has made $2,700.
Why PayPerPost Will Work
There are a couple reasons actually. First and foremost, remember how everyone cried about putting paid search results on the search engines? Well, Google figured out a way to create a platform for advertisers and websites that allowed ads in search results and on people's personal webpages. They make a lot of money on that – it worked.
Second, advertisers are struggling to find ways to reach increasingly niche and dis-established groups. Old media isn't holding peoples interest anymore – they need/want to reach people at a more personal level. Bloggers are their ticket, PayPerPost will be their platform.
How do I know this? I'm a marketer. I've tried PayPerPost. It works. Here are my results for one test campaign that I did a couple weeks back for my eBay sales tool List'd:

So, for about $900 I was able to get over 41,000 people to view 100 blog posts about my product – not bad. Not shown here is the fact that List'd now shows up as the #2 result on Google's search results for the term "listing tool". As someone who knows a little about search engine marketing, I can tell you that that result is worth it's weight in gold. We get a lot of registrations from that term alone each week.