MyBlogLog is a site that allows you to setup a profile, claim your blog, and put a widget on it. Nothin new there right? Correct, where they differ is that the widget is populated by profiles of other who have registered on MyBlogLog and have a profile. They can choose to join your "community", or they will automatically join after 10 visits to your site.
I find this very interesting for a couple reasons. First, some people like to browse with anonymity, and a service like this will show your movements across the blogosphere – at least with the bloggers who also use a MyBlogLog widget.
Second, it really does create a sort of pseudo community. The catch is that enough of your readers have to be members of MyBlogLog in order to show enough readers. This works particularly well for your tech blogs who have a higher than normal amount of readers who will try this type of service.
I would definitely consider registering (it's painless and non-invasive, that's a nice change from most registrations these days), it's a great way to find new blogs and new contacts. For more on how to use it to it's full potential, check out this guide.
Take a look at the current "hot" blog communities: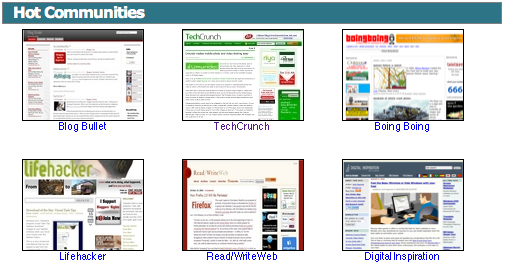 I've plunked the widget at the bottom of my sidebar for now. Not really a great place to put a widget that you hope to grow community out of, I know. However, I'm trying to come to grips with that incredibly massive sidebar and don't know quite what to do with it. I've been threatening a redesign, and the sidebar is a big part of it. Ungainly mass that it is.
[edit: since I wrote this, I've decided to move it up in the sidebar in order to make this a more realistic experience/experiment]