I'm quickly becoming a fan of "Modern Life is Rubbish", a blog about technology and statistics. They always seem to have some new amazingly well-done chart with interesting information. They had one back in July that covered the number of IP addresses assigned around the world. An IP address (Internet Protocol Address) is a unique address that devices use in order to identify and communicate with each other on a computer network.
The map below shows this data. Those countries with more than 1 IP per person are in green, those with 1 IP for every 10 people are in yellow, 1 IP for 100 people in orange, and so on.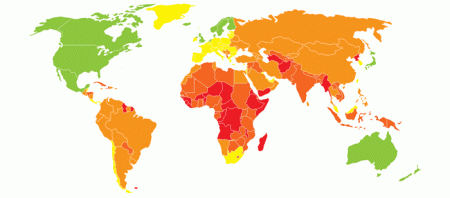 African countries represent the bottom of the chart. Actually, 8 of the bottom 10 are African countries (Madacascar, Guinea-Bissau, Central African Republic, Burundi, Malawi, Ethiopia, Niger, Democratic Republic of Congo). That's not a good thing, but not altogether that surprising either.