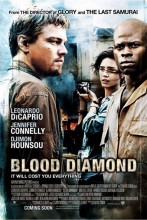 I received an email a couple days ago by a reporter from the U.S. BBC radio program "The World", about international news and culture (www.theworld.org). She wanted to know if I would be willing to do an interview about my thoughts on the movie "Blood Diamond".
She found my blog and reference to the movie from the short heads-up piece I wrote about Blood Diamond a while ago. I did mention that I'm only one voice from the blogosphere, and that she should speak to a few more people about what their views are on it and how it portrays Africa.
Anyway, here is the piece – it's an audio stream. (doesn't work on a Mac)
Now, after my 20 seconds of fame and a few thoughts on social issues, I go back to what I'm actually comfortable talking about: Technology. 🙂 — Oh, one small correction, I'm not in Sudan at the moment, I grew up there and in Kenya and I might not have communicated that clearly.