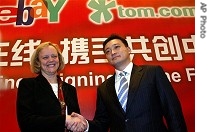 eBay decides to leave China – arguably one of the biggest eCommerce markets of the future. Why? Why, would you do that after having spent over $100 million?
Corporations are generally pragmatic entities that will cut off non-profitable departments, locations and/or people after giving them time to prove themselves – or not. eBay is no different, they were soundly drubbed by a local company named TaoBao.
The lesson learned here surrounds the keyword "local", and it's one that Africa, region and continent-wide would do well to remember. The tech giants can do incredible things with all the money and experience that they have. They are, on top of the web world because they are good at what they do. However, that position brings with it a level of arrogance that makes them believe that they can recreate their Western successes in non-Western settings.
Unrealized by many is that an understanding of the local marketplace, the nuances of the culture and business practices, always trumps money and technical experience. That's what the African Digerati need to remember and start working towards. Why not build the next eBay in Africa, then be "partnered" with for $40 million? Why not build the next PayPal, Google, YouTube or MySpace, when the success of such a venture is sure to realize millions of dollars?