I've been learning a few lessons on community over the past few months. This has come primarily from my interaction with the African blogosphere and my observations of how people communicate. Having a weekend away from technology has given me time to ponder some of these thoughts, without further adieu…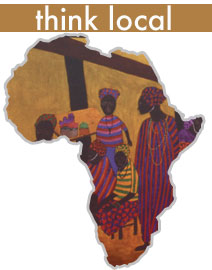 You would think, with this international world and the power to network with people from varying cultures, that we would all reach out and try to come to know others. Get outside our own box, our own way of thinking. Why not get to know the bloggers from Madagascar, Chad and Namibia?
That is not what happens.
Instead, we see a lot of independent voices (the true power of the internet) that coalesce into communities of like-minds and like-backgrounds. These communities tend to operate, grow and strengthen within their own echo chamber. If enough noise is made, they grow. If enough independent thought is encouraged and a lack of centralized control is maintained, it is healthy. Kenyan, Nigerian and South African communities are all testaments to this, while others like Uganda and Madagascar are growing.
Can There be an African Platform?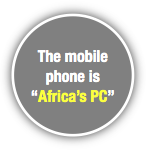 When I first started talking about Zangu, a mobile platform that I envisioned would connect Africans, I thought of it on the global scale. I was wrong. The strength Zangu (or any technology like it) will not be found in the connecting of Africans on an Africa-wide scale, but in the creation of a platform that connects people on the local level.
It's not that we don't want to connect, or wouldn't be friendly and helpful if the need arose. It's that we are all to busy and have enough on our hands just trying to get by. This is true whether you're a local bicycle repair man or an international business leader. We use technology for convenience when the need arises.
Lessons Learned
When I first began blogging about Africa and technology, it was natural for me to fall in with my East African bretheren as I naturally felt like I belonged there. We each need to find a place from which to operate and gain acquaintances and friendship throughout the blogosphere, and mine was Kenya. On top of this, because of my web technology background, I started communicating and talking to a lot of South African bloggers – South Africa being the biggest technology sphere in Africa, this made sense.
I found myself watching what was happening on Muti (a social news site for Africa) and resenting the fact that only South Africans seemed to be taking part in the conversation. Why? Why did other Africans not utilize this platform to its true potential?
The answer lay in my earlier observation that we all need to feel connected and part of a group. The platform we use is only as powerful as the people who use it. Muti gains popularity daily because of the attention and use by South African bloggers. As that happens, others don't feel as "at home" there. Since there is no other alternative for say, the Cameroonian bloggers, well they just don't go there. Instead they end up frequenting message boards and their own blogs.
Final Thoughts
This has yet to be proved, but my guess would be that the person who developes the "social software for Africa" will not be following in the footsteps of past giants like Africa Online. Instead, it will be someone who creates a platform that allows local (and hyper-local) communities to develop when and where they need to be. In other words, it cannot be something predetermined by the creator of the platform.
So, where does that leave me with my thoughts on Zangu, mobile connectivity and the web one year after I first published my initial paper? Interestingly enough, I think a platform like Zangu is still needed even though the premise on which I first wrote it was wrong. It's not just about Africa, it's about being useful in the lives of individuals where they live (local). Africa just happens to be where it's at and so it needs to be customized for groups within it.