Vincent Maher is up to his tricks again. Not a month goes by without a new project by the M&G web gang. This months newest entry into the social web is Amatomu, a South African version of Technorati. Basically, Amatomu tracks the South African blogosphere, the newest articles, the top bloggers and some traditional news from M&G.

Many South African bloggers have been clamoring for this type of service. It's difficult to find the newest blog entries on a specific South African topic on the web, so this service serves to bridge that gap.
In order for your blog to be indexed you'll need to sign up and embed some code into your site. Amatomu uses that tracking code to figure out how much "influence" your blog has, as well as to give you basic traffic statistics.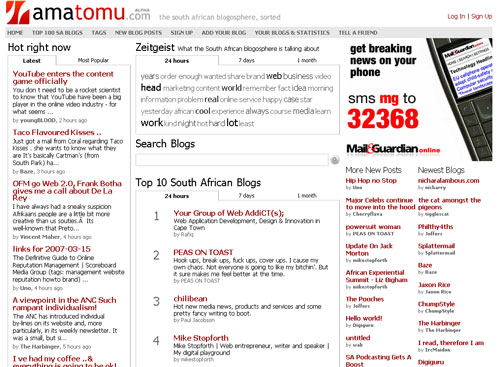 [Note: I actually wrote this a week ago, but was asked not to blog it until yesterday when all hell broke loose – congrats again to Vincent, it looks great!]