[Note: This is just a bloggers first take on it, and I freely admit to not having a deep understanding of the reasons why traditional journalistic accreditation is important. Everyone has a right to free speech (or should), so why does this matter?]
Tresblue raises an excellent question in his blog post, "Is Blogging Journalism?"
I believe that blogging is performing a very important role in the new media today. Free of the hierarchy of traditional media and not bound by their rules and constraints, bloggers can be damned scary because they are not, nor can they be controlled.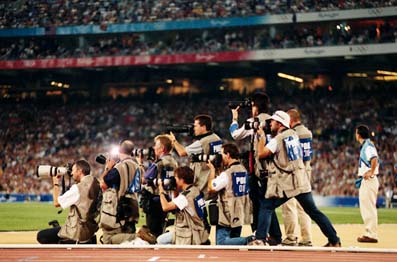 We first need to define what makes someone a journalist, or what makes the media "the media". Then we need to decide how a blogger differs from a journalist.
Is it about readership? If someone gets enough attention, are they worthy of accreditation?
Is it about elitism? Is it the old traditional news companies protecting their space from this rabid crowd of peasants who would claim a voice?
Does it even matter?
I recently attended an event as "press/media". They wanted me to cover their event because they wanted to reach my readership. Honestly, I couldn't tell any big difference between myself and the traditional journalists in the room – other than their cameras were bigger.
What is the great benefit of being considered part of an accredited media association?
How about this; why is there any delineation at all between people who write about newsworthy things for money and those who do it for free?
I tend to think we'll see a lot more of what happened to me. Organizers of shows and large companies don't care about the accreditation of the writer, they just want to reach a large audience. If you're a quality blogger, expect to be invited to attend events, just as traditional journalists would be.
I'd like to know answers to these questions just as much as everyone else. I'm going to continue reading Tresblue to see what people over there are saying. A little homework on my part is in seems in order as well. Thoughts?