Last week I had a chance to sit down and have a conference call (Skype chat) with the technology brains behind the latest buzz in the African blogosphere: The Aggregators.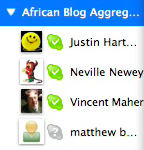 Justin Hartman (Afrigator), Vincent Maher (Amatomu), Neville Newey (Muti) and Matthew Buckland (Amatomu) got together for a half hour to discuss their creations. Having that much brain power pointed in my direction left me feeling vaguely uncomfortable, but they were all nice enough chaps and didn't make me feel like a complete tech-peasant, for which I thank them. 🙂
Bullet-point takeaways:
Neville points out that Muti is actually not an aggregator (I apologize)
Amatomu is positioning itself for the greater non-blogging readership, not just the bloggers
Afrigator has a plan to grow through a mobile phone strategy
Justin coins the term "Afrosphere" to describe the African blogosphere
There is a need to be wary of South African domination of platforms
Amatomu plans to grow outside of South Africa regionally
Everyone aggrees that broadband connectivity is hugely important for future growth

Below is an edited version of our chat. Any spelling errors are my own.
On reaching out beyond the tech community
Erik Hersman:
What are you doing to reach the non-techie/first-mover crowd with your platform?

Neville Newey:
Ok a few ways to answer that….
Muti doesn't "try" and go for any particular crowd, it's the members themselves that really decide on the tone and flavor of the site. Having said that, if you look at Digg and Reddit they tend to be dominated by techie types. It's quite possible that Muti will gravitate that way, but I personally am not trying to go for that crowd or any other crowd. It's quite interesting to sit back and watch it take shape.

Vincent Maher:
Amatomu has 2 audiences: the bloggers and the general blog readership who may not be bloggers. We see the non-bloggers as the far bigger audience and part of what we want to achieve with the site is to grow and enhance the blog audience. We're going to do ths by using our existing channels to promote content on the 'sphere. Links from the M&G website, write-ups in the paper and so on. Most bloggers are already saying Amatomu sends them 15% of their daily traffic, so that's the plan.

Erik Hersman:
So, the bloggers get the readers and you get the mainstream traffic?

Matthew Buckland:
Essentially, we want to send more readers to the blogosphere. We also want to measure blog activity so people can see authoritative blogs. We want to implement many other metrics to measure blogs and the blogosphere… Track links, measure page impressions (sign of activity), measure fast movers, measure links to posts and blogs, etc…

Justin Hartman:
I think we are targeting a very similar approach to Amatomu in a lot of respects. However, we're trying to tap into a very "untapped" market in the Afrosphere. There are a lot of technology resources out there – Technorati is one of them – however, we're trying to make it more user friendly if we can. We want the un-educated newbie user to understand what Afrigator is about, but we also want the techie features for our subscribers. We want to become a hybrid for news in and around Africa an ultimately be a source of objective information to countries that lack many technology resources. A part of this strategy is our WAP side, because most African's have a cell phone.
On growth strategies
Erik Hersman:
Okay Justin, so you have a mobile strategy too for Afrigator.

Matthew Buckland:
Just to add: we're also developing an Africa-focused blog aggregator on the back of the current Amatomu template, but we felt at the outset that Amatomu needed to be South Africa-focused.

Neville Newey:
How will Amatomu differ from Afrigator?

Matthew Buckland:
To tell you the honest truth, I'm not sure. I haven't investigated Afrigator in any depth (yet :-)). What I can say is that it will be similar to Amatomu in that we will have categories, possibly regional as opposed to topic.

Vincent Maher:
Our strategy is also regional and not limited to Africa.

Justin Hartman:
Well, I don't think the market should be limited either. There is nothing wrong with having Amatomu and Afrigator serving the same markets.
On South African domination of platforms
Erik Hersman:
How do you all plan on dealing with South African's taking over and drowning out other voices from around Africa on your platform?

Matthew Buckland:
There is something we have been mulling re: The Africa and South Africa separation… South Africa is a very big internet market in Africa terms… So, we did not want South African bloggers dominating what should be a discussion for Africa… Hence the decision to create a focused South Africa aggregator and a separate Africa aggregator. We will obviously link the two.

Justin Hartman:
I think up until now, South Africans (us) have had difficulty in understanding what the African markets entail and we have, as you mentioned, drowned the voices of other markets. That said, there havent' really been the tools available to allow Africa as a whole to do this, and I think that's Afrigator's edge in this. We are, I hope, becoming a resource for the minority voices to be heard. I think there is a huge market outside of South Africa.

Neville Newey:
Justin, I am interested to know if you are going to try and do a French version or have language options, because obviously West Africa is a pretty big market.

Justin Hartman:
You know, I hadn't even thought about this until last night when our first two French sites came on board. In my mind we have to do this without questions, but we have to figure out how to do it effectively.

Erik Hersman:
How about Amatomu?

Vincent Maher:
French, Portuguese and Arabic.
On challenges for social web development in Africa
Erik Hersman:
Quick hit question: what is the major challenge you see in this new space in Africa? (technology, social, etc…)

Neville Newey:
I have said it before and I will repeat it again. BROADBAND, BROADBAND, BROADBAND

Justin Hartman:
From my perspective, our biggest challenge is resources. By that I am referring to the accessibity of the internet to Africa. We want to reach the masses, but as with SA we will probably only hit the elite few who can afford broadband, but please God, can we change that wit a future strategy. Mobile is a key solution here I think.

Matthew Buckland:
Yes, internet connection speeds are big issues, but that is more a function of socio-economic issues and broader issues of governance. Just to add something else into the pot: there is a huge sensitivity in Africa to South African companies dominating and acting in an imperialistic manner. So, in regards to our Amatomu Africa strategy, we're going to apprach with extreme sensibility. It's a real no brainer that we get the African blogosphere to buy into it.
Again, a big thanks to everyone for being involved in the conversation. Next one we'll try and do audio so that we can get through more questions.