A recent post on a Kenyan 3D game, and spurred on by a comment (and subsequent emails) from a Ghanaian game developer, has led me to do some more research into African developed computer games (or games focused directly on Africa). The types of games that I came across seem to fit into 3 categories:
Mini-Games – Fun little Flash games used as promotional tools for companies and organizations.
Themed Africa – These are the games like Halo 2, Metal Gear and Call of Duty that use Africa as a backdrop, but not as an overriding theme for the whole game.
Pure African – Developed by Africans or with a complete focus on creating a totally African game.
Below are some of the highlights of my research across the gaming industry, it's not an exhaustive list.
Transaid Challenge (Mini-game)
In 2006, an international aid organization called Transaid developed a fun car racing game to, "highlight the tough transport challenges faced by health workers delivering medical supplies to remote African villages." Honestly, I was skeptical of this game at first, but it did prove to be a fun little Flash game. Someone could definitely expand on this basic idea and create a really fun web-based multi-person game.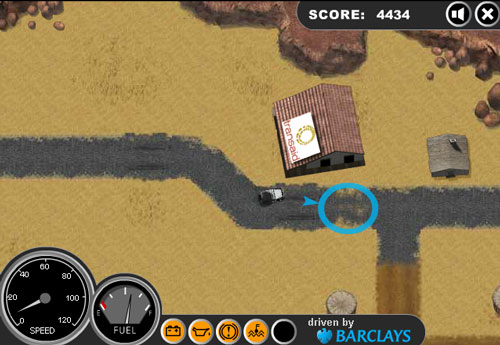 Africa (Pure African)
This project might be dead, unfortunately, since it really is a great idea. Africa is an MMO (Massively Multiplayer Online) game that puts players into 13th century Africa. Again, this is an outstanding game concept, hopefully it will be resurrected and made. (Read more here)
Take up your spear and set forth on an unforgettable adventure in 13th century Africa. Choose from one of the many kingdoms or found your own tribe. Protect your people and conquer your enemies, and the Griots will sing the praises of your heroic deeds. Farm the land, herd cattle, grow wealthy through trade, become a mighty warrior, master the wisdom of the ancients, or rule an empire. The choice is yours.



Africa Themed Games:
Wildlife Tycoon: Venture Africa – Combining features of tycoon and puzzle games, Wildlife Tycoon: Venture Africa also includes a feature called "Be the Animal", which lets you hunt, fly, or flee with any creature.
Cabela's African Safari – Hunt animals in Africa.
In Development:
Sword of Sygos (being developed in Ghana)
Sword of Sygos, thought it's being developed in Africa, actually takes place in Rome. Eyram is a passionate game developer, so I look forward to seeing their final product.

Adventures of Nyangi (being developed in Kenya)
A 3D computer adventure game that takes place in a fictional African setting.
Summary
Africa provides a rich, and virtually untapped, setting for gaming. This especially holds true for online gaming and mobile gaming of the future. Outside of Africa, developers like to use Africa as a theme, but they still seem to miss out on the great depth of history and adventure this continent has to offer. I'm glad to see that there is some development going on in the continent, and I hope to see a lot more in the future.