As some of you know, I'll be attending the TEDGlobal conference in Arusha, Tanzania in a couple weeks. On my way, I'll be stopping in Johannesburg, South Africa >> Nairobi, Kenya >> Arusha, Tanzania. Here's a short overview of my itenerary. Contact me if you'd like to meet up.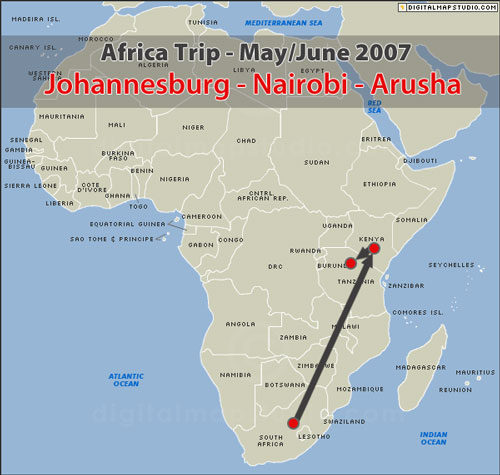 South Africa (May 25 – May 29)
I'll be attending the 27 Dinner on Sunday. Still finalizing some meetings, but I look forward to seeing what the Colin and guys at the Sunday Times are doing, along with Mike Stopforth's Afrigator and Cerebra group, and what the ever-surprising Vincent Maher is up to at M&G. I have some dead time over the weekend, if you'd like to show me what you're doing in Jo'burg, or just grab a coffee and chat, send me an email.
Kenya (May 29 – June 3)
Ah, I love going home to Nairobi! We're having a blogger and techie night out on June 1 at Alpenof, next to Prestige Plaza on Ngong Road(Mental is organizing this). No reservations required, just show up and network with all of the others in the industry. I know quite a few are coming, so this should be a really good time. I'll also be meeting with Riyaz Bachani, who's really got his finger on the pulse of the Nairobi tech scene. I'll also take part in a mobile workshop and talk to some of the techies who are creating the new apps, websites and games in Kenya. Get in touch if you'd like to get together with me during these dates.
Tanzania (June 3 – June 8 )
Off to TEDGlobal, where I the chance to do a short talk on African ingenuity and what we can learn through the stories on AfriGadget. Again, I'll be interviewing and talking to people throughout the event.