George Ayittey is a large thought leader in the field of change in Africa. His book, Africa Unchained, has been a seminal book for many. Opening his talk, he named and talked about two generations in Africa: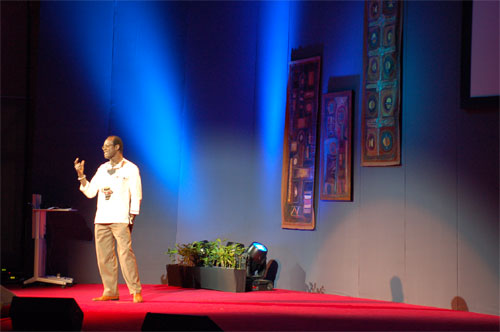 The Cheetah Generation – made up of the youth, specifically the TED Fellows present here, the saviors of Africa who are not going to wait for government and aid organizations to do things for them.
The Hippo Generation – the current political and business leaders who are happy to wallow in their water holes, complaining about colonialism and poverty, but doing nothing about it.
Ayittey pulls no punches. He compares well-meaning international aid organizations who don't understand Africa as the "Blind leading the clueless."
Here are some of my notes:
He reminds us that 40% of the wealth crated in Africa is taken out of Africa, that "Africa's begging bowl is leaking horribly". Examples:
Africa loses $148 billion to corruption each year
Africa loses $80 billion to capital flight each year
Africa loses $20 billion to food imports each year (when it used to be a food exporter)
Since 1960 we've had 204 African heads of state – name me just 20 good leaders! Most can't even get 15. Even 20 out of 204 is still a failure of government. The slate of post-colonial leaders is a far cry from the leaders Africa had known for centuries.
Sometimes we think there is something called a government in Africa that cares about the people, and represents the people. What you and I understand as the government doesn't exist in any African country. They suck the economic vitality out of the people. It's a vampire state. The richest people in Africa are politicians – the chief bandits are the presidents.
An American says, "I am because I am". An African says, "I am because we are".