[note: this was one of those posts that was supposed to go live a week ago, but server downtime for 4 days made that impossible. Some of these blogs are VERY much worth reading]
Harambee is a Swahili term that means "pulling together". That mentality, the willingness to work together, was what made it possible to cover a busy event like TEDGlobal.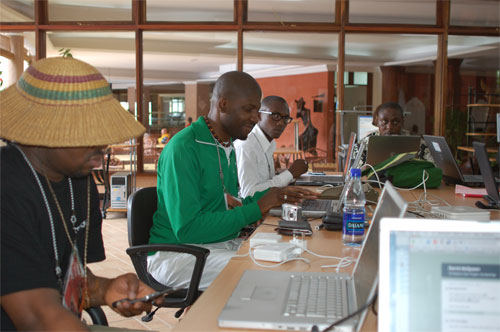 Some of the African bloggers at TEDGlobal
It was a lesson in communication and coordination.
On the very first day everyone realized that Ethan Zuckerman must have dual processors in his head, there was no other way that someone could get a post up on every single 18 minute talk, 5 minutes after it was over. A number of us immediately discussed whether there was any use in duplicating all that effort, or if our time would be better spent adding our own angles on the speakers and event.
Some of us decided to take pictures, some did interviews between sessions and others decided to summarize the day. Everyone who blogs has their own voice, and I think it showed in the coverage. What could have been an amalgamation of everyone saying the same thing turned into a fairly well-rounded coverarge of the event.
There is a great Global Voices recap of all the coverage as well.
The TEDGlobal Africa Bloggers:
Soyapi – Malawi
Rafiq – South Africa
Andriankoto – Madagascar
AfroMusing – Kenya
Mental Acrobatics – Kenya
David McQueen – England
Ethan Zuckerman – Pan Africa
Ory Okolloh – Kenya
Ndesanjo Macha – Tanzania
Emeka Okafor – Pan Africa
Mulumba Lwatula
Philemon Msangi – Tanzania
Bankelele – Kenya
Andrew Heavens – Ethiopia
Jen Brea – Pan Africa
Ramon Thomas – South Africa
Fran Osseo-Asare – Ghana
Fifth Culture
Ellen Horne
Reuben Abraham
Heresy
Sam Ritchie
Class V
[If I missed someone, send me an email]