iblog.co.za is a blogging platform developed by South Africans for South Africans. This 1-year old hosted platform (which means that you get a domain like http://yournamehere.iblog.co.za) takes it's lead from Blogger, and has been developed on the WordPress platform.
Mark Garbers, one of the two-person-team startup, tells me that there are almost 4,000 people using it, that's not a bad number at all, especially within the confines of South Africa. I have mixed feelings about this, as anyone who reads my blog should know.
iblog.co.za shouldn't just be about South Africa.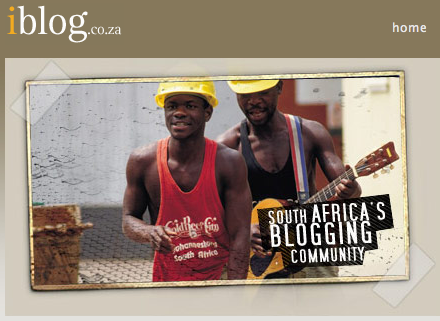 So, how does iblog make money since the service is free and doesn't limit the amount of storage space for any user? Advertising. At some point they will have ads that show up. They toyed with Google Adsense, but the ads turned out to be irrelevant and distracting. They pulled those ads and are now working on figuring out a way to make it work for both the users and themselves. In the meantime, they have set up a dedicating hosting partnership with RSAWEB that defrays the costs and allows them to continue growing.
Now, this really is a great platform. iblog allows you to use your own customized style sheet to create your own look and feel. They also have done an excellent job of developing community using their homepage to show popular, newest and random blogs. iblog is also very well designed – this is where so many web applications fail (not just South African), they don't understand that the aesthetics are as important as the functionality and feature set.