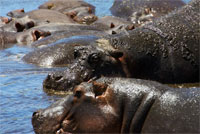 A recent article in the Economist about there not being enough hippos at TED Global is pretty interesting. Actually, scratch that, it's not very interesting at all, in fact it's disappointing that this is the best article about the recent conference in Tanzania to come out of a magazine like the Economist.
There were notably few of the hard-knuckle African politicians who often run the interior or defence ministry or act as kingmakers, sometimes bankrolling rotten presidents.
The backstory here is from George Ayittey's brilliant speech in Arusha, where he likened the TED Fellows and other entrepreneurs present as the "Cheetahs" willing to do anything, regardless of government help, to succeed and make Africa better. Whereas the "Hippos" were the old guard of politicians and big business who were happy to wallow in their role as victims of colonialism and poverty.
Ethan takes it a step further, where he poses that the World Economic Forum could be labeled Hippocon, while TED was where the Cheetah generation could be found.
My question is why was this person from the Economist so fixated on there not being enough hippos? Is it because that's the only way he sees things getting done in Africa? If he believes that is so, then he's missing the bigger picture. The message at TED was that regardless of the hippos, the cheetahs will find a way to make change happen.
The story wasn't that there weren't any hippos at TED, it's that they are becoming irrelevant.