Fran Osseo-Asare has launched a new African cookbook project called BETUMI.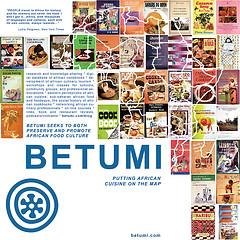 The goal is to archive African culinary writing and make it widely available on the continent and beyond. A database is being developed and copies of hundreds of cookbooks are already being catalogued at BETUMI: The African Culinary Network. Google has offered assistance in eventually digitizing some of the information.
This is a neat example of online interaction, parlaying into offline interaction, that then results in a product. Basically, Fran came to TEDGlobal with an idea. She was engaging, fun to talk to and had us all trying to figure out how we could best help her.
Having a global database of true African cooking is a big project and a great idea. It'll take more than just Fran to pull it off, and I'm excited to do my little part in it too (telling people). Send her your African recipes and cookbooks. You can reach her at questions@betumi.com.
Read more at the TED Blog, Fran's Betumi Blog and NowPublic. Congrats Fran, and good luck!