The New York Times is running a story on the promised, but undelivered, widespread high-speed internet that Greg Wyler's Terracom promised 4 years ago.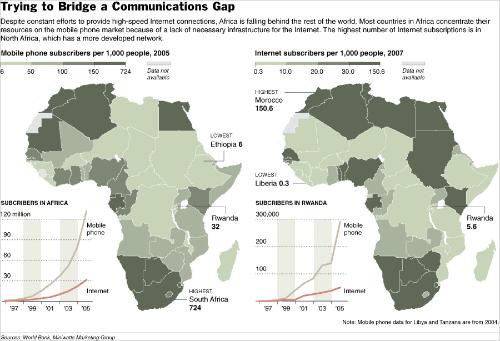 Mr. Wyler, an executive based in Boston who made his fortune during the tech boom, said he would lace Rwanda with fiber optic cables, connecting schools, government institutions and homes with low-cost, high-speed Internet service. Until that point, Mr. Wyler, 37, had never set foot in Africa — he was invited by a Rwandan government official he had met at a wedding. Mr. Wyler never expected to start a business there; he simply wanted to try to help the war-torn country.
This is an interesting story, partly because here is a guy who wanted to invest in Africa and do a good thing. That's what many people, including myself, are asking for. If outsiders want to help Africans, then do it through investment money, not aid. The problem is, Greg did just that and has yet to see a major return on his investment.
This is the type of negative investment activity that shines a bad light on Africa as a whole. Believe me, others will not invest because of his story. Regardless of whether it's his fault, the Rwandan governments fault or any number of other things. The fact is, the investment isn't panning out (yet), so it will scare off other investors.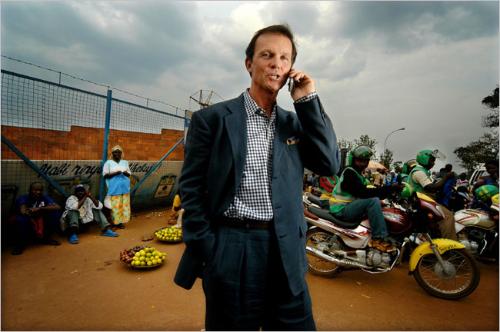 Here's another bleak quote:
The result is that Africa remains the least connected region in the world, and the digital gap between it and the developed world is widening rapidly. "Unless you can offer Internet access that is the same as the rest of the world, Africa can't be part of the global economy or academic environment," said Lawrence H. Landweber, professor emeritus of computer science at the University of Wisconsin in Madison, who was also part of an early effort to bring the Web to Africa in the mid-1990s. "The benefits of the Internet age will bypass the continent."
So, while our governments mess around, squabbling over incoming undersea cables. And as the private sector telecoms monopolies kill our global competitiveness, what are we supposed to do?
Part of the answer is to band together and make a case for change. Take a look at what Eric Osiakwan is doing with AfriSPA and work with Google representatives like Joseph Mucheru in Kenya to get some legislative change working in our favor. Become part of the local community trying to do something – don't just sit back and expect it to happen on its own.