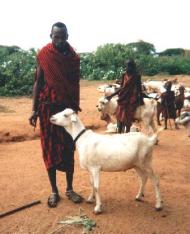 Some of the greatest insights on this site have come from the individuals leaving comments. Someone by the name of "Goat Herd" left one of those comments today, on one of my favorite blog posts "The Dark Continent: It's Still Dark" from over a year ago. Thank you "Goat Herd", and thanks to everyone else who enriches all of us by leaving comments and keeping the discussions going here.
This comment is worthy of a post entirely to itself, it's well worth the read:
I strongly disagree with most of Ishtar's and Yishlie's views. I grew up in rural Kenya. I went to school barefoot. After classes, I'd till the land, herd the goats, then walk miles to fetch water and find firewood. There was no electricity, No TV, No phones … just an old transistor radio that had VOK (Voice of Kenya). The nearest hospital was miles away and was poorly manned and stocked. If it rained … the roads were impassible… If it did not… starvation was imminent. … Yes, we did not try to subdue the environment, … The Environment subdued us. We were at its mercy.
Although by local standards were not that poor … by global standards we were very poor. Our lives were uncluttered by modern technological advances… but, like our forefathers we spent a lot of our time just providing for our subsistence. It was a hard life with no rest in sight.
Later I moved to the city and then on to America which exposed me to very different experiences. Some bad, many good. I witnessed systems that work (or at least work better than any that I had known in the past). I realized that some of the problems we face today had long been solved by others. All that was needed was for us to adopt (and customize) those solutions to suit our particular circumstances. And here's my big disagreement with Ishtar and Yishlie. …
There is nothing romantic or idealic about being poor. Only a person who has never been poor can entertain such a notion. Ishtar also seems to suggest that human warmth and material prosperity (or technological advancement) are mutually exclusive. I think the people that Ishtar talked to in Niger, would be just as warm even after rising out of poverty.
It is true that the West (and the rest of the world) can learn valuable lessons from Africa. But it is also true that Africa NEEDS to learn a whole lot from the rest of the world (Not just the west). In Africa, there are still too many systems that don't work, too too many children dying of curable and preventable diseases, too many "involuntarily" iliterate people and too many people living hand to mouth their entire lives. Other societies have faced these same problems and overcome them. We need to borrow a leaf from them.
I am not saying that we should adopt everything western… No. We shouldn't "copy" from them, we should "learn" from their experiences. There's no shame in adopting solutions from others. This is not a contest to see who is "better" or who is more "original" between the west and Africa. This is about adapting to a changing world. … And we must adapt or perish.
Yes, I believe we can be prosperous and technologically advanced while still retaining our human warmth.
Ishtar suggested that we should get rid of corrupt governments and psychopathic bankers… I agree that we should … but …How do you do that ?
You can have a bloody revolution …

or

You can find ways to circumvent the corrupt government and psychopathic bankers
…. I believe that "White African's" main point was that … The "African Digerati" is in a position to cause change by finding ways to circumvent corrupt governments, unnecessary red tape, bad banks and other barriers …
I will enumerate afew of the "projects" that i am currently aware of that a section of the African digerati is trying to implement.
Promoting the use of "Open Source software" in Kenya.
A group of Kenyans here in the US are currently recording video lessons on how to obtain and use various open source softwares. They intends to distribute the DVDs for free (or almost free) to high schools, colleges and cybercafes. The goal is to expand the awareness and expertise in such software to a level where most business would be comfortable ditching their expensive softares for the cheaper open source.
Another group of Africans from Ghana has set up a money transfer system that allows them to send money back to Ghana for way less than they would using regular banks… The results… the local banks have had to lower their charges.
There's a Kenyan selling organic food in Kansas. The food is grown by his fellow villagers in Kenya. Due to the ease of communication and funds transfer made possible by modern technology, he's managed to start a mini-industry all alone without involving the government.
… and many others
… White African's point … We can no-longer continue blaming corrupt African government and "evil " multinationals for Africa's woes without doing anything about it.
Now, at an individual level, we have the very real potential to cause significant positive social- economic changes . The beautiful part is that we can achieve this without having to make monumental personal sacrifices.