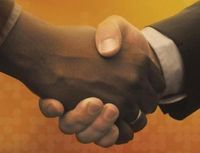 I came across an interesting article in Canada's Globe & Mail entitled, "Africa – Investing's Final Frontier?". The piece talks about how Africa has been overlooked, primarily due to the perceived risks associated with putting money into play in Africa. They quote extensively from Merrill Lynch chief investment strategist Richard Bernstein and his thoughts on what makes Africa a potential big hit in the coming years.
While India, China and other emerging markets are now permanent fixtures on the radar screens of the media and investors, Africa is brimming with under-followed companies and stock markets, Mr. Bernstein said. Furthermore, the continent is rich in oil and other commodities, the very resources that are fuelling the booming economies investors are clamouring for.
The Merrill report pointed to ten investment opportunities in Africa:
Oil
Commodities
Agriculture
Health care
Infrastructure
Telecommunications
Information technology
Defence
Financial services
Retail
It's good to see some of the larger US investment organizations looking closer at Africa. I hope that more investors do take a serious look at African enterprises. The will to build business and wealth in Africa is there already, what has been lacking is the capital to build.
[Update: more on this same topic from the Wall St. Journal – thanks Pablo]