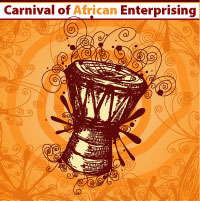 I'm proud to host the 3rd Carnival of African Enterprising, following in the fine footsteps of AfricanPath and African Loft. Each host of a Carnival has some freedom in how they choose to put their piece together. In mine, I've decided to pick what I considered the top 5 most interesting articles on African business and economy that were submitted.
Bonus (Okay, this wasn't submitted, but I really enjoyed it…)
The Annansi Chronicles raises some very thought provoking commentary on what role the ultra-rich African play in the scramble for Africa's resources.
Host a Carnival on your site
If you would like to host a carnival (which I highly suggest doing) – talk to Benin Mwangi. To submit to next months edition, follow this link.